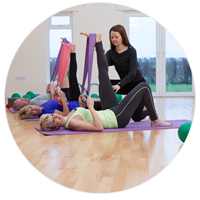 Pilates is so much more than just exercises and choreography
The Pilates method is an exercise/ movement technique that integrates the use of mind and body to create overall benefits. Anyone can call themselves a Pilates teacher, but being a great Pilates teacher requires a combination of many things including specific training, qualifications, knowledge and experience, along with a genuine passion for what they do.
Being a member of a related professional association also gives you reassurance that an Instructor is a suitably qualified, insured and committed professional, and that you're therefore in safe hands.
Being a REP's (Register of Exercise Professionals) member for example means that an Instructor:
Holds recognised and approved qualifications
Meets agreed National Occupational Standards
Is recognised as industry professional
Is committed to ongoing professional development
Is legally covered to practice by appropriate insurance
Adheres to a Code of Ethical Conduct