Discover Pilates with me
Pilates is a unique exercise system renowned for developing core strength, improving posture, mobility, flexibility and balance, as well as being an aid to overall general wellbeing and relaxation. It is effective for all ages, body types and fitness levels.
I'm Caroline Hopkins; a fully qualified and experienced Body Control Pilates ® Teacher. After experiencing my own health issues I began practicing Pilates and continued for many years, becoming fascinated by the ability of Pilates to really change bodies and minds. I am an absolute believer in the life changing mind and body benefits of Pilates. My passion for Pilates is reflected in my teaching and the successful results that my clients achieve from working with me.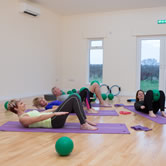 My sessions are based on a unique, evolved approach to the original material of Joseph Pilates, developed more than 80 years ago to build strength, flexibility and body alignment. I encourage my clients to perfect their technique, promoting precision and control. The breath is an essential component as each session flows from exercise to exercise, clients become more focused and centred with better body awareness. Everybody is welcome, from athletes to exercise novices or those simply wanting to give Pilates a try.
I have referrals from physiotherapists and other medical, health and wellbeing professionals and I have also worked with major organisations, hotels, health clubs, dance, sport and fitness studios.
I have worked with Sports England to encourage Doncaster residents to become and stay active.
I have helped many people achieve their goals; whether recovering from injury or surgery and looking to strengthen the body to prevent future injury, looking for muscle tone and flexibility, joint mobility or simply promote relaxation and a feeling of general wellbeing.
Qualifications, training & memberships:
Body Control Pilates ® Level 3 Matwork Pilates Teacher Certification
Level 3 Diploma in teaching Pilates
Back4Good ® Practitioner
Backcare Professional (The Charity for Healthy Backs www.backcare.org.uk)
Body Control Pilates ® Association member
Body Control Pilates ® Academy founder member
Level 3 award in exercise for pre/ post-natal clients
VTCT Level 3 Diploma in Massage Therapy
Diploma in Aromatherapy
Emergency First Aid
British Wheel of Yoga Foundation
Conveniently located
I work in and around Doncaster and Barnsley, and surrounding areas of South, North and West Yorkshire. If you're not in these areas don't worry! Please get in touch to discuss, as it may still be possible for me to visit your location or it may even be possible for us to work together via the internet; skype and phone calls.
Body Control Pilates is a registered trademark used under licence.