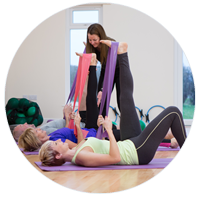 5 Reasons to do Pilates
'You will feel better in ten sessions, look better in twenty sessions,
and have a completely new body in thirty sessions'Joseph Pilates
Of course, it was hard to limit myself to just 5, but here are my top 5 reasons to do Pilates. What are yours?
1. Muscle tone, core and bone strength– for a lean, strong and toned body. As core strength and muscle flexibility develop the muscles and spine have the support they need and are better able to handle stressors that can cause injury.
2. Better balance- increased stability and control helps to improve functional movement, and strength and flexibility in the core and legs positively affects balance and coordination.
3. It's a whole body workout– from the top of the body through to the tips of the toes.
4. It is mindful exercise– and a powerful aid to relaxation and stress relief. Increasing body awareness and your connection of the mind with the body, breathing deeply and focusing on your own body.
5. It improves posture– realigning the body, and helping to correct imbalances in the body that cause bad posture and tension.
In order to get all the benefits mentioned above, it is essential to work with a certified instructor that is qualified and experienced to move you through your practice strategically and safely.